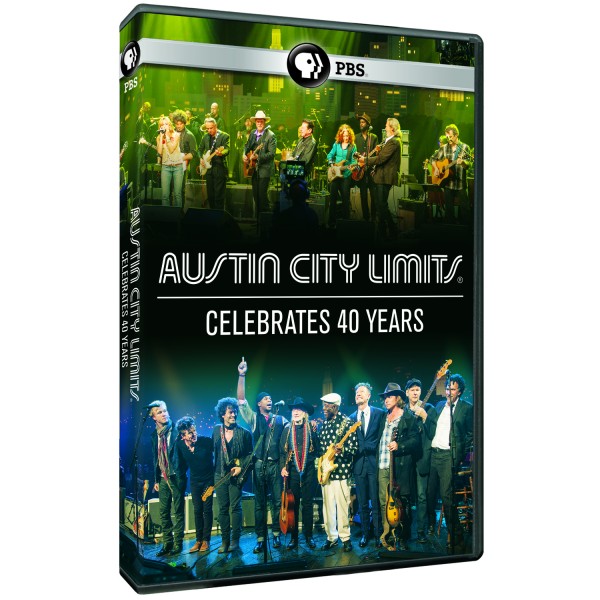 ACL Celebrates 40 Years DVD
$20.00
$15.00
The landmark public television series Austin City Limits has presented the best in contemporary and classic music for four decades, becoming the longest-running music show in American television history. ACL observed its birthday in 2014 with Austin City Limits Celebrates 40 Years, a special featuring great performances by Willie Nelson, Bonnie Raitt, Lyle Lovett, Foo Fighters, Jimmie Vaughan, Alabama Shakes and more. Hosted by Oscar-winning actor/musician Jeff Bridges, Grammy-winning singer/songwriter Sheryl Crow, and Academy Award-winner Matthew McConaughey, Austin City Limits Celebrates 40 Years honors not only ACL but also the power of music to entertain, inspire, and move millions every week.
Track Listing:
1. "Wrap It Up" - Bonnie Raitt, Brittany Howard, Jimmie Vaughn, and Gary Clark Jr
2. "Your Good Thing (Is About to End)" - Bonnie Raitt
3. "Me and Bobby McGee" - Kris Kristofferson and Sheryl Crow
4. "Gimme All Your Love" - Alabama Shakes
5. "What a Little Bit of Love Can Do" - Jeff Bridges
6. "Whiskey River" - Willie Nelson
7. "Funny How Time Slips Away" - Willie Nelson and Lyle Lovett
8. "Crazy" - Willie Nelson and Emmylou Harris
9. "On the Road Again" - Willie Nelson, Emmylou Harris, and Lyle Lovett
10. "The Road Goes on Forever" - Robert Earl Keen and Joe Ely
11. "Bright Lights" - Gary Clark Jr.
12. "Two Headed Dog (Red Temple Prayer)" - Foo Fighters
13. "Can't Cry Anymore" - Sheryl Crow
14. "I'm Leaving" - Doyle Bramhall II and Sheryl Crow
15. "Mulato" - Grupo Fantasma
16. "The Pleasure's All Mine" - Jimmie Vaughn and Bonnie Raitt
17. "The House is a Rockin" - Kenny Wayne Shepherd, Mike Farris, and Double Trouble
18. "Pride and Joy" - Robert Randolph with Double Trouble
19. "Mary Had a Little Lamb" - Buddy Guy with Double Trouble
20. "Texas Flood" - Double Trouble
21. "Not Fade Away" - Finale with all artists
+ Bonus content and extras!